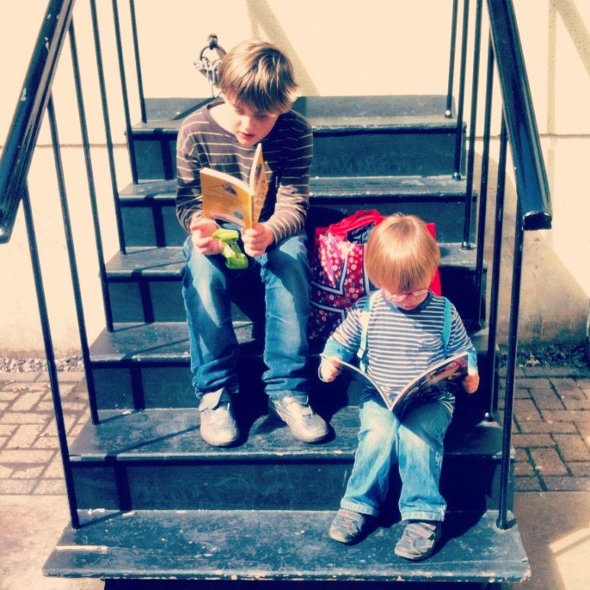 "The more that you read, the more things you will know.
The more you learn, the more places you'll go."
Dr. Seuss
Teachers say that reading is the foundation of all learning and that promoting reading at home is the most important way that parents can help their children. None of us would disagree, but how on earth are we supposed to get our children to do it? Asking, insisting, threatening or bribing are all likely to get you nowhere except incredibly frustrated. So what's a parent to do?
I guarantee that if you're trying that hard to get your children to read, you're trying too hard. You can't nag them, secretly hoping they'll develop a love for it. They're far more likely to be annoyed with you and resent reading. The key is to be far less obvious about it.
Our goal is to make reading something that our children enjoy, not a chore, so they will want to do it without us having to even mention it. With that goal in mind, try to make reading a wonderful experience for your children from the very beginning. You can easily help them to associate reading with feelings of peace, happiness and relaxation.
Karen's Simple Solutions – How to get your child to read:
When your children are very little, let them sit on your lap while you read stories to them. Very few children can resist! If you have a wriggler who never sits still, try this one when they're tired, just before bedtime.As they get older, you can snuggle together on a chair or get into their beds when it's time to put them to sleep and read to them. If you have two young children, hop in bed between them and read to them together. This will help your children think of reading as a lovely cosy time, a real pleasure that they look forward to.Before you know it, your child will be coming home from school with reading books. Just continue doing the same things – either put your child on your lap or just next to you when they read their books to you.
If they ask for it, help them. Otherwise, tell how well they're doing and how beautifully they're reading. If they manage to work out any words for themselves, mention it. "Well done working out the word 'the'. That's a tricky one with the 't' and the 'h' next to each other." This will help them think of themselves as a good reader and to associate reading with a positive experience. If you start criticising them, they'll think the opposite.
If you read newspapers, magazines, books or anything, your children will see that that's 'just what we do around here' – we read.
Whatever their age, mention things you read that you think might interest them. Talking about what we read is also 'just what we do around here.'
When your children begin bringing  interesting points to your attention that they've read, listen and pay attention to what they have to say.
As with little children, reading can be a very relaxing and wonderful experience for older children as well. Ask if they'd like to get their book and join you in your room, or wherever you are, so you can read together.
Practical ways to get your children to read more:
Take them to the library or bookstore and let them choose books for themselves.Get magazines they might like and leave them lying around the house. Up to about age ten my children loved magazines about cats, dogs and wildlife. My friend still teases me about the cat magazine we were all reading at our house one day – she thought I was completely mad until now that she has her own son! Once they were older my children started reading bits and pieces in The Week Magazine. Now we all fight over it when it's delivered on Friday.
All reading counts, so let them read fun books: Guinness World Records, Ripley's Believe It or Not, Top 10 of Everything. When my son was little he loved the Captain Underpants series.
Photo © slightly everything – CC BY 2.0