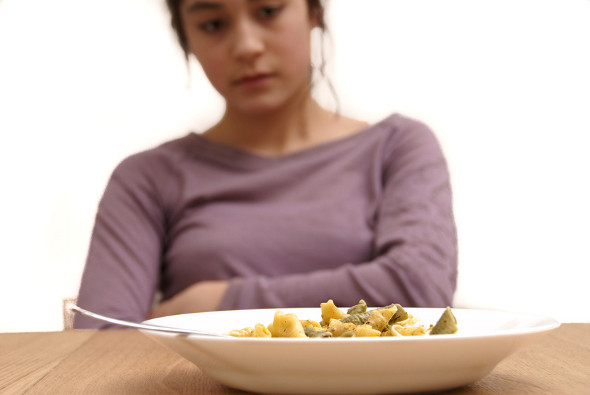 By Yvonne Green MBACP (Accred)
Qualified Counsellor and Eating Therapist at The Food Doctor
As parents it can be very difficult to know if our child may have food issues or may be developing an eating disorder. This isn't easy to spot and our child may be reluctant to tell us or even talk about it. You may believe that they are behaving strangely or acting obsessively. They may be losing weight continuously and you are concerned for their health. Knowing what to look for can be very helpful and if you feel your child is exhibiting any of the following behaviours, it may be time to think about taking some action. If you are concerned or worried seek help either from a GP or a professional therapist.
Anorexia
What is it? Seeking to achieve a low weight by restricted eating
What to look for – initial signs:
Commitment to dieting, frequent weighing
Withdrawal from social situations
Secretive behaviour around food
Excessive exercise
Insomnia
Denial of any problem, often aggressive
Conviction that low weight is desirable
Ritual behaviours
Fear of normal body weight
Continuous viewing of internet sites relating to food and weight loss
Interest in cooking but not eating
Bulimia
What is it? Bingeing followed by purging to prevent weight gain
What to look for – initial signs:
Disappearing to the bathroom after a meal
Staying up late and going to the kitchen to eat
Large quantities of food disappearing
Unexplained irritability and mood swings
Finding hidden food wrappers
Secret stash of food
Constant cold-like symptoms
Eating very quickly without enjoying food
Binge / Compulsive Eating
What is it? Eating large amounts of food beyond hunger
What to look for – initial signs:
Eating in response to an upsetting event
Mindless eating, while doing other activities
Grazing or picking at food all day
Out of control eating
Feelings of guilt after over eating
Bingeing more than twice a week
Karen Meets…Yvonne Green
In this video I speak to Yvonne Green, qualified Counsellor and Eating Therapist at The Food Doctor Clinic, Harley St, London, about how to spot if your child is just fussy or has an actual disorder, and what you should do about it.
Yvonne sees clients at The Food Doctor Clinic, 13 Harley Street, London W1G 9QG (020) 7792 6720 www.TheFoodDoctor.com